Sun-Tec exhibited at "Display Taiwan 2012" in Taipei, Taiwan from June 19th to 21st. Even though we have sold many machines to companies in Taiwan, this is our first time to be an exhibitor at the show in Taiwan.
A typhoon passed through Taiwan at that time, but fortunately the traffic was normal in Taipei and many visitors visited our booth. We had the opportunity to show our equipment and were able to have meetings.
There are many manufacturing facilities for large size flat panels in Taiwan. Most visitors were from Taiwan.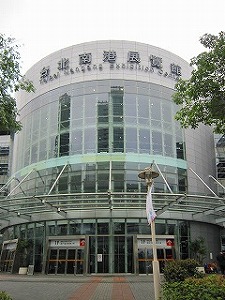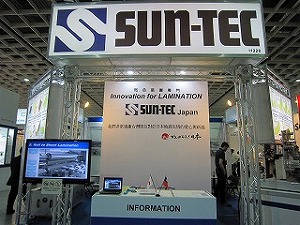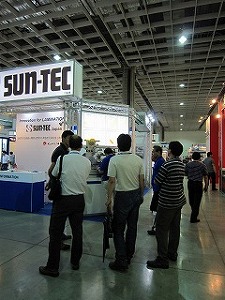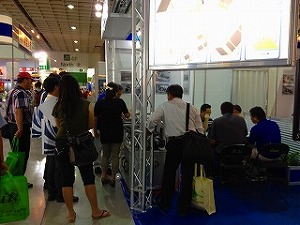 This time, Sun-Tec displayed the following machines with various panels.
TMS-SA-P1
Film + Glass or Glass + OCA + Glass lamination is possible in the atmosphere.
MP05-S
Film is automatically loaded and laminated to the manually loaded glass with the cover film peeling simultaneously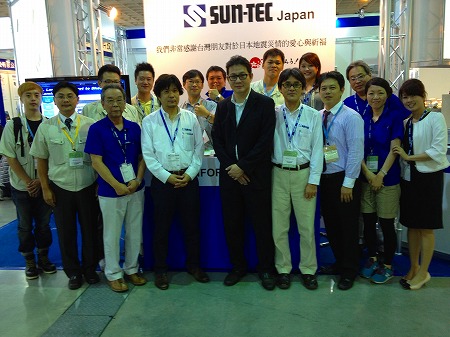 Thank you very much for stopping by our booth. Sun-Tec continues to provide support for the lamination process in display manufacturing for customers around the world! We look forward to hearing from you soon!
Sun-Tec Marketing and Sales team SY
SUN-TEC CO.,LTD.
We create high accuracy and effecient film/Panel Lamination machines for display manufacturing industry over 30years.
SUN-TEC WebSite
http://www.sun-tec.net/english/index.html